News
15.10.2014
Faith, hope and machine guns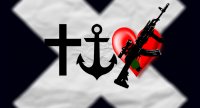 The 10th anniversary festival carries the theme Faith, hope, and machine guns. We want to give the stage and a voice to the people who fight against oppression in the pressure points all over the world. They are often armed only with faith and hope for a better future, and too often fighting against firearms.

Theme documentary films:

Sergei Loznista: Maidan
Alex Gibney: Finding Fela
Sini Andersson: The Punk Singer
The Rhiadi Brothers: Everyday Rebellion
Howard Bustnes: Two Raging Grannies
Liz Marshall: The Ghosts in Our Machine
Talal Derki: Return to Homs
Omar Shargawi, Karim El Hakim: ½ Revolution
Ben Knight, Travis Rummel: DamNation
Kai Sehr: Skateistan

We'll announce the whole festival program at Wednesday 22.10.