Live
Wednesday 12th of November
The Opening Gala: Aino Venna
at Kerubi
9 p.m. • Free entry • Age limit 18 years
The Rokumentti Opening Gala is held in Kerubi on Wednesday the 12th of November. The main performer in the gala is Aino Venna whose cinematic music is the perfect way to kick off the anniversary year. The band will release their second album in the autumn. Free entry, welcome!
» ainovenna.com • soundcloud.com/aino-venna
» Facebook event
Thursday 13th of November
Techno Thursday: OJJ, DJ Curry, FykTH, Hitboogie
at Kerubi
10 p.m. – 3 a.m. • Free entry • Age limit 18 years
Together with Rokumentti, electronic music collective Fiktio arranges Techno Thursday Club that comprises of the music from documentaries screened before the club – in addition to other intense techno music with old school vibes. Moreover, chiptune wizard OJJ, one of the performers at Ilosaarirock Festival 2014, will take the stage with his chiptune awesomeness!
The techno and old school sounds of the club are presented by the very own Fiktio DJs Curry, FykTH and Hitboogie with special sets tailored for the Rokumentti atmosphere. Just like with all the Fiktio events, Kerubi will be decked with breathtaking deco to boost your techno experience.
» fikt.io • facebook.com/fiktiodk
» odjj.bandcamp.com • soundcloud.com/ojj666
» soundcloud.com/fykth • mixcloud.com/FYKTH
» mixcloud.com/hitboogie
» mixcloud.com/djcurry
» Facebook event
Friday 14th of November
Films in Ilosaari – Open Air
at Ilosaari / Kerubi
4:30 p.m. – 10 p.m. • Free entry
The 10-year anniversary of Rokumentti is celebrated at the darkening Ilosaari island in the form our first open-air event! The magically lit Ilosaari will have an open-air stage where a selection of films are screened and other acts, such as contemporary circus shows, are performed. You can enjoy the show at Ilosaari or Kerubi's terrace where you can warm up with Kerubi's delicious food.
Timetable:
4:30 p.m. Pätkä-Pätkät (short films for children)
6:00 p.m. Laulu koti-ikävästä
7:30 p.m. Kiven aika (musical fire show)
8:00 p.m. Pitkä kuuma kesä (opening short: Tango Finlandia)
9:30 p.m. Panohommia ja kirjoitusvirheitä (Kerubi Kitchen / poetry and circus)
YleXPOP Club: Softengine, Matti Airaksinen: Parasta ennen!
at Kerubi
10 p.m. • Tickets 10/12€ • Age limit 18 years
The radio station YleX visits Rokumentti once again! The YleXPOP club brings on stage the bombastic modern poprock band Softengine and YleX's very own party animal straight from the 90s, Matti Airaksinen.
» softengine.fi • facebook.com/softengineband
» Facebook event
Hippa Club: 7 Stout Clan, Trollfolk
at Hostinna Piimälinna
10 p.m. • Tickets 5/7€ • Age limit 18 years
The folk music club Hippa presents some fiery folk music from Finland and around the world!
» trollfolk.fi
» facebook.com/pages/7-Stout-Clan
» Facebook event
Rokumentti After Party: Big Pop DJ's
at Kerubi
at 11 p.m. • Tickets 5/6€ • Age limit 18 years
Saturday 15th of November
Megatättärää Party: Bad Ass Brass Band, Tundramatiks, DJ Emil
at Kerubi
10 p.m. – 3 a.m. • Tickets 5/10€ • Age limit 18 years
On Saturday, the Kerubi Stage turns into a boiling horn kettle with our intense Balkan party. The Rokumentti Megatättärää Party is the hottest and most energizing revelry of the year!
The stage is taken by the 11-piece, orgasmic brass ensemble Bad Ass Brass Band and the ever-ravishing Tundramatiks. On top of that, DJ Emil will make you sweat what's left of you with a compilation of the best Balkan rhythms.
» facebook.com/BadAssBrassBand
» facebook.com/tundramatiks
» Facebook event
Lauantaidisco goes Rokumentti: Satellite Stories DJ's
at Kerubi
at 11 p.m. • Tickets 4/5€ • Age limit 18 years
Sunday 16th of November
Horror Film Concert: The Fall of House of Usher / Lau Nau ja Likaiset kynttilät
at Tapio Screen 2
3 p.m. • Tickets 10€ • Age limit 16 years
In addition to Rokumentti, horror film event Cinemare celebrates their 10-year anniversary this autumn. To celebrate the anniversary, Rokumentti and Cinemare organise a horror film concert in Tapio cinema. The surrealist horror classic The Fall of House of Usher is accompanied by a live show from the great name of neofolk Lau Nau ja Likaiset kynttilät.
The restored La Cinémathèque Française version of the film is screened in the event.
» launau.com • facebook.com/launau
Record Fair
at Kerubi Basement
11 a.m. – 3 p.m. • Free entry
The greatest record shop in the world Levy-Eskot organises their traditional Rokumentti Record Fair once again! Come and skim through a basement full of records.
Film Brunch
at Kerubi Kitchen and Sali
Noon – 6 p.m. • Free entry (except for the food)
On Sunday, come and ease your festival state of mind in Kerubi, where you can enjoy some fittingly chosen classic films and a delicious burger brunch.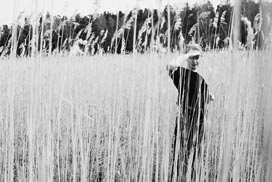 Aino Venna at Rokumentti Opening Gala on Wed 12th Nov at Kerubi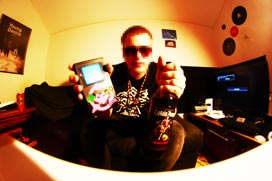 OJJ at Fiktio Techno Thursday on Thu 13th Nov at Kerubi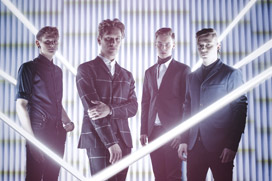 YleXPOP Club: Softengine on Fri 14th Nov at Kerubi

Megatättärää Party: Bad Ass Brass Band on Sat 15th Nov at Kerubi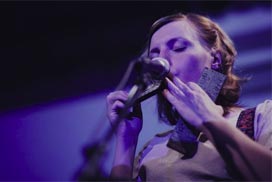 Horror Film Concert: The Fall of House of Usher with Lau Nau on Sun 16th Nov at Tapio