Ten Times Rokumentti
Rokumentti celebrates its 10-year anniversary this year! To honour the anniversary, we organise a ton of special events from an intimate film brunch to a scan through archives and a spectacular open-air event.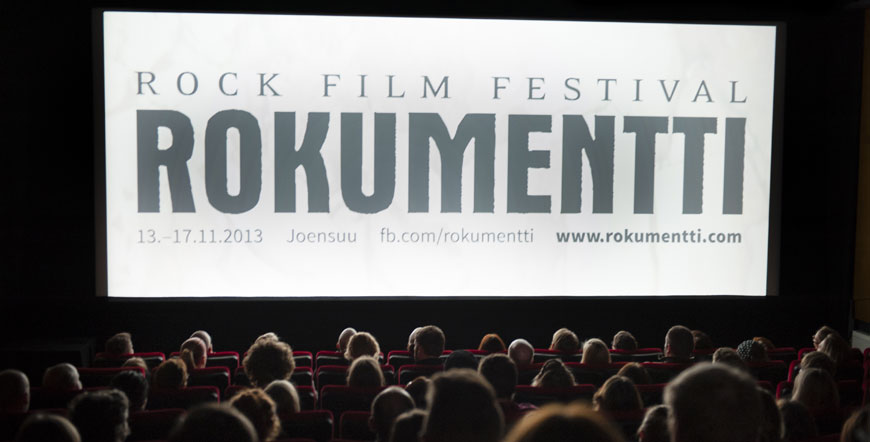 10 days of films
Rokumentti is not the only festival celebrating this autumn. Cinemare horror film night is also organized for the 10th time. Cinemare and Rokumentti joins for a film party that lasts ten days!
Fri 7th Nov — Cinemare horror movie night
Sat 8th Nov — Rokumentti warm up: Enter the Void
Sun 9th Nov — Rokumentti warm up: Once
Mon 10th Nov — Rokumentti warm up: Sid & Nancy with KAVI
Tue 11th Nov — Rokumentti warm up: Drive
Wed 12th – Sun 16th Nov — Rokumentti Rock Film Festival

Opening gala
The Rokumentti Opening Gala is held in Kerubi on Wednesday the 12th of November. The main performer in the gala is Aino Venna whose cinematic music is the perfect way to kick off the anniversary year. The band will release their second album in the autumn. Free entry, welcome!
Films in Ilosaari – Open air
The 10-year anniversary of Rokumentti is celebrated at the darkening Ilosaari island in the form our first open-air event! The magically lit Ilosaari will have an open-air stage where a selection of films are screened and other acts, such as contemporary circus shows, are performed. You can enjoy the show at Ilosaari or Kerubi's terrace where you can warm up with Kerubi's delicious food.
Timetable:
4:30 p.m. Pätkä-Pätkät (short films for children)
6:00 p.m. Finnish Blood Swedish Heart
7:30 p.m. Kiven aika (musical fire show)
8:00 p.m. Pitkä kuuma kesä (opening short: Tango Finlandia)
9:30 p.m. Panohommia ja kirjoitusvirheitä (Kerubi Kitchen / poetry and circus)

Horror Film Concert
In addition to Rokumentti, horror film event Cinemare celebrates their 10-year anniversary this autumn. To celebrate the anniversary, Rokumentti and Cinemare organise a horror film concert in Tapio cinema. Lau Nau and the Dirty Candles will perform a newly composed live score for Jean Epstein's surrealist horror classic The Fall of the House of Usher (original title "La chute de la maison Usher", 1928, France). The band is Laura Naukkarinen, Niko Karlsson, Pekko Käppi and Jaakko Tolvi.
The restored La Cinémathèque Française version of the film is screened in the event.
Film Brunch
On Sunday, come and ease your festival state of mind in Kerubi, where you can enjoy some fittingly chosen classic films and a delicious burger brunch.