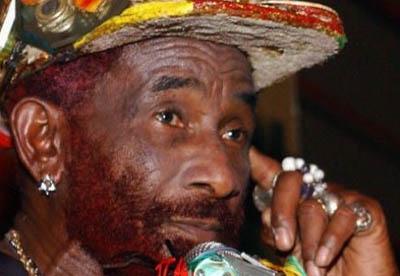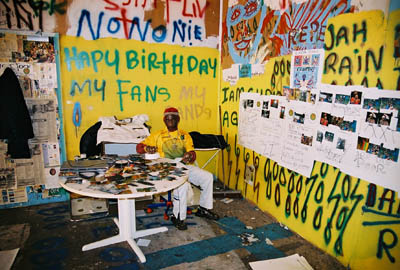 The Upsetter
Ethan Higbee & Adam Bhala Lough:
The Upsetter (USA, 2008)
95 min. – DVD – English.
Age limit 13+
The Upsetter: The Life & Music of Lee Scratch Perry is a feature length documentary about one of the most fascinating and influential artists of our times. The film begins in rural Jamaica, probing into Perrys mysterious youth as well as the notorious events of his peak production years in Kingston, in which Scratch mentored a young Bob Marley, created the sound of Reggae as we now know it, pioneered a new genre of music he called Dub, invented what was to become the remix and produced international hit songs for artists from Junior Murvin to The Congos to Paul McCartney to The Clash all while working out of the infamous Black Ark Studio, a shack that he built with his hands then later burned to the ground in a fit of drug addled rage.
Equally a documentation of a musical culture and a fascinating character study of genius and madness, The Upsetter is a sight and sound clash of visual and aural styles, utilizing ancient stock footage, photographs, concert video, audio clips, music video clips both old and new, and an exclusive, candid interview with the mastermind himself at his home in Switzerland. Filmed in Jamaica, London, Switzerland, New York, San Francisco, Los Angeles and Colorado, the Upsetter charts Perrys influence on all reaches of the globe.
www.theupsettermovie.com
Trailer (YouTube)
—
Adam Bhala
Adam Bhala Lough was born in Virginia. He moved to New York when he was 18 years old and graduated from NYU Film School in 2001. After two highly successful short films Lough had a change to make feature film and Bomb The System was born. Movie is a story about young graffiti artists in New York. It won best movie title in Anchorage International Film Festival. At this moment Lough is doing document about Lil Wayne, an American R&B artist, and feature screenplay for Robert De Niro's Tribeca Films.
Filmography:
The Upsetter (2008)
Weapons (2007)
Bomb the System (2002)
Jes One (2001)
Roundest Wheel (2001)
Ethan Higbee
Ethan Higbee met Adam Bhala Lough at the NYU during their studies. They have made many projects together and Higbee has been composer in Lough films. Beside composing the music Higbee has also been a director, screenwriter, producer and cinematographer in different projects. 2002 Higbee founded media production house Permanent Marks with his friends Jon Keskitalo and Sebastian Demian. Their aim is to invent, produce and distribute high quality music and films. Permanent Marks has collaborated with Japanese Pony Canyon, French Shiseidon and Interscope Records.
Filmography:
The Upsetter (2008)
The Making of 'Friends with Money' (2006)
Roundest Wheel (2001)