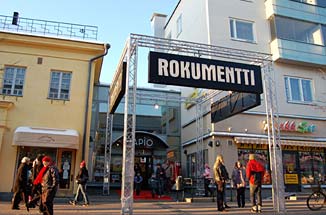 Participate in Rokumentti Rock Film Festival and submit your own music-related film, whether fiction or a documentary, to us. Just e-mail a brief description and the technical details of your film to media

rokumentti.com.
News
24th October 2008 – Timetables are ready, ticket sales begins
The programme is now ready and the final timetables are here. We couldn't avoid simultaneous screenings but what can we do, we have some many great movies to screen! The sale of tickets begins on Monday, October 27th at the Tapio Movie Centre. Please remember that seats are limited.
13th October 2008 – Houston, no problems! We are ready to go!
Rokumentti programme is now ready! Almost forty films and live concerts and clubs and seminars and education and what ever you can imagine. Take a deep breath, sit down and explore at your own time. It may cause you faint if your nerves are too weak.
Side to side with the top quality films we are presenting two theme packets called In The Mood and The Grind. In The Mood focus on rhythm music and lets the low frequencies climb up your spine into your pleasure centres. We have dub, reggae, jazz, soul, beat box and everything else. And on the other hand, The Grind lets the raw and aggressive spirit free. Screens are filled with black metal, hardcore punk and skinheads.
And yet, this is not all! One of Finlandís top rock musicians Ilkka Alanko comes to Rokumentti with his new, unheard material and never before seen show. We have absolutely no idea what is going to happen. And that is soooooo exiting!
15th September 2008 – Here it is!
First part of Rokumentti program. We have punk, rhythms, country, new, old, you name it. Check it out and be amazed!
3rd September 2008 – Rokumentti Concerts at Joensuu Areena
This year's Rokumentti Rock Film Festival is accompanied by two massive concerts at Joensuu Areena. On Thursday 13th November, it's Disco Ensemble, CMX, I Walk the Line and Apulanta, and on Friday 14th November it's Elškelšiset, Hanoi Rocks, Pelle Miljoona Unabomber and Kumikameli taking to the stage. You can buy your ticket to both these events from Lippupalvelu and Levy-Eskot from Thursday 4th September onwards.
And that's just for the starters. Virtually endless lists of movies and music will be announced later. So stop your whining about the cold and dark fall, we're going to bring you light and warmness. And loud music. Rock. Personalities. Everything. Just wait.
And if you don't have the patience to wait till November, we're giving you appetizers of what will come. We'll screen the best two concert films made this year: Martin Scorsese's Shine a Light (about Rolling Stones) and Julian Schabel's Lou Reed's Berlin. Try to hold till November with those.
See you!
16th May 2008 – The fourth Rokumentti is bigger and better than ever - welcome!
Rokumentti – Rock Film Festival will be held in Joensuu from 13th to 16th November 2008.
Also this year, the festival is full of both exciting rock movie classics and new and unusual combinations of pop culture and moving picture. The festival organisation is constantly looking for films and documents with a connection to rock music, pop culture or music makers in Finland and abroad.
The main venue of the Rokumentti Festival is Movie Center Tapio, but during the festival weekend there are special events taking place all around the town of Joensuu!