Only Lovers Left Alive
Jim Jarmusch:
Only Lovers Left Alive (UK/USA, 2013)
123 min. • English
Age limit 12

Only Lovers Left Alive, a gothic vampire love story by master director Jim Jarmusch has enchanted festival audiences all over the world. This film is a refreshing exception amongst the shiny, glittery vampire movies that seem to be the trend today, for anyone who has followed Jarmusch'€ôs career will know not to expect the Twilight atmosphere.

Moody Adam (Tom Hiddleston) lives in the desolated city of Detroit and composes melancholic music. His beloved, Eve (Tilda Swinton) in turn lives on the other side of the globe, in the exotic, romantic Tangier. Despite the distance, the connection between the two is strong, and we are led to believe they are the last true lovers in the world. When Eva finds out that Adam is depressed she flies to Detroit to see her love. The tranquillity is broken by Ava, Eve'€ôs little sister, whose careless actions soon force all three to flee.

Swinton and Hiddleston are captivating as quirky, intellectually superior vampires. As with all of Jarmusch'€ôs best films, the story is filled with gloomy, ingenious, sniggery humour that takes jabs at everything, from modern times to popular culture and history. The spirit of the film, along with its impeccable, hypnotic music makes this film a must-see!
See also:
» John Carney: Once
» Jim Jarmusch: Mystery Train
» Nick Fenton, Peter Strickland: Bj√∂rk: Biophilia Live
» John Carney: Once
» Jim Jarmusch: Mystery Train
» Nick Fenton, Peter Strickland: Bj√∂rk: Biophilia Live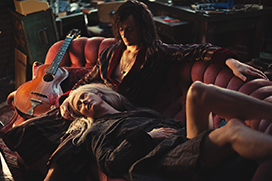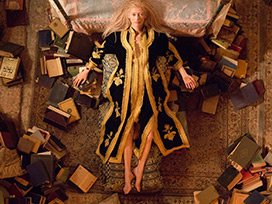 Screening time:
Tapio 4 • Fri 14th Nov at 10:00pm