Live in the Theatre: Sonik
Live in the Theatre: Sonik
45 min.
The festival Thursday offers a treat for the fans of acoustic music. Sonik, an indie rock band from Joensuu, goes full acoustic in the movie theatre Tapio'€ôs auditorium. Listening to live music in a sound-dampened room, where all the nuances and lyrics come alive, is an intimate experience.

While Sonik is only working on their debut album, they are familiar faces in the music business. The vocalist Ville Härkönen is known for various projects from the band Maryland to countless troubadour performances, and Heikki Marttila, the guitar player, was a member of the band Stella. Alongside them, the drummer Jari Lappalainen has made a career in folk music and the bass player, Antti Perälä, is known for Rödsögården. Even if Sonik is still relatively young, their sound springs from decades of experience. This combined with their strong songs, skillful arrangements, and four-part harmonies raise Sonik above other indie rock bands. Their music is a spine-tingling amalgam of The War on Drugs and the Finnish schlager legend, Kari Tapio.

We invite you to enjoy an evening with Sonik.
See also:
» Morgan Neville: 20 Feet from Stardom
» Iain Forsyth, Jane Pollard: 20,000 Days on Earth
» Jean Epstein: The Fall of the House Usher (La chute de la maison Usher)
» Morgan Neville: 20 Feet from Stardom
» Iain Forsyth, Jane Pollard: 20,000 Days on Earth
» Jean Epstein: The Fall of the House Usher (La chute de la maison Usher)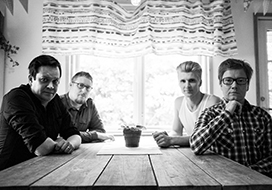 Screening time:
Tapio 3 • Thu 13th Nov at 7:00pm