Metalhead
Ragnar Bragason:
Metalhead (Iceland, Norway, 2013)
97 min. • Icelandic • English subtitles
Age limit 12

Living a peaceful country life on an Icelandic dairy farm, Hera'€ôs life takes a dramatic turn when her brother Baldur gets into an accident in the field. Hera'€ôs reality is shattered and the only comfort she has are the heavy metal records, band T-shirts, and an electric guitar that her brother left behind. Ten years pass by painfully slowly with 80s heavy metal and a broken family, until there'€ôs a new turn in Hera'€ôs life. It comes in the form of Norwegian black metal seen on TV.

Through black metal, Hera'€ôs life gets new content, like playing metal music to cows, arguing with the church, and a bunch of moping townspeople who are tired of Hera'€ôs crazy antics. Her parents, who are avoiding their own grief, can'€ôt control their daughter who is high on daddy'€ôs moonshine, and those around her have a hard time understanding the girl hiding underneath a mask of corpse paint. It gets worse before it gets better.

There is a slew of black metal clichés in Ragnar Bragason'ۙs film as well as brilliant depiction of the period. Icelandic crude, black humor goes down well with Finnish viewers and the impressive scenery of Iceland offers a grand backdrop for the story. Despite the humor, Metalhead is not a comedy. The distance between laughter and tears is short and the atmosphere changes quickly from one to the other. The soundtrack is near perfect, which is not a surprise since it consists of Megadeth, Judas Priest, Diamond Head, Savatage Lizzy Borden, and Riot.

Here'€ôs a movie gem for you, no matter if you like good movies, good music, or both!
See also:
» Antti Haase: Monsterimies
» Don Argott: Lamb of God: As the Palaces Burn
» Lenny Abrahamson: Frank
» Antti Haase: Monsterimies
» Don Argott: Lamb of God: As the Palaces Burn
» Lenny Abrahamson: Frank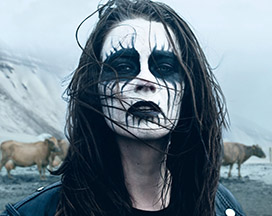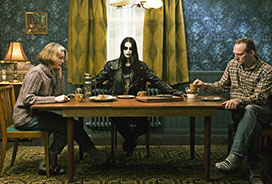 Screening time:
Tapio 3 • Sat 15th Nov at 5:15pm