Finding Fela
Alex Gibney:
Finding Fela (USA, 2014)
119 min. • English

Finding Fela is Oscar winner Alex Gibney'€ôs impressive documentary about the father of afrobeat, Fela Kuti, and his fight against dictatorship. Fela Anikulapo Kuti, who passed away in 1997, is one of the most famous African musicians but perhaps his most notable life'€ôs work was fighting for the oppressed in Nigeria, and all of Africa.

Fela Kuti may be the best example of how music can be used as a political weapon. The performances of the outspoken singer'€ôs band were revival meetings where imperfections were erased, and faith in change developed into the energy of a revolution. Kuti also utilized his own body for the use of the uprising. His unbelievable vitality and explosively physical performances instilled faith in the Nigerians suffering under the dictatorship. Even after decades, the power of the band'€ôs concerts is riveting to see, forcing one to take off one's hat.

Watching Fela Kuti'€ôs life story is like watching a thriller. The Nigerian government treated Kuti as a dangerous revolutionary, and the fearless musician himself prepared to go to prison after every release of one of his singles. Alex Gibney tells the story of Kuti with the skill of an Oscar winner which makes Finding Fela very enjoyable to watch. The overriding impression left by the film is how Fela Kuti'€ôs political message and his example are even still relevant.
See also:
» H√•vard Bustnes: Two Raging Grannies
» Sini Anderson: The Punk Singer
» Salvo Cuccia: Summer '82: When Zappa Came to Sicily
» H√•vard Bustnes: Two Raging Grannies
» Sini Anderson: The Punk Singer
» Salvo Cuccia: Summer '82: When Zappa Came to Sicily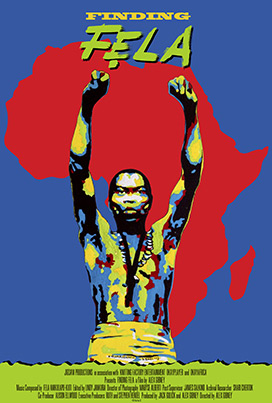 Screening time:
Tapio 3 • Sat 15th Nov at 2:45pm