Shut Up and Play the Hits
Will Lovelace, Dylan Southern:
Shut Up and Play the Hits (UK, 2012)
108 min. • English

On April 2nd 2011 in Madison Square Garden LCD Soundsystem, an electropunk band at the height of their popularity, played their last gig which had been sold out in seconds and was to be their last. It was one of those gigs that people will talk about until they die.

Shut Up and Play the Hits is one of the most powerful music films and concert movies of the past few years. The film is exquisitely beautiful. It is rare that the lights, the audience, and the band's facial expression are captured as lovingly and in detail as through the lenses of Lovelace and Southern. To top it all, LCD Soundsystem, one of the most important bands of the 2000s, turns the gigantic arena into a sweaty dance club with the intensity of their performance. The ten-piece's energy simply explodes off the screen.

This is not just a concert film. The camera also follows James Murphy, the endearing front man (who is also the founder of DFA records, a DJ, and a producer), as he prepares for his band's last show. This teddybearesque 41-year-old brings humour to the screen by being the unlikeliest of rock stars.

First the film will make you wish you'd been at the concert. Then you will be compelled to walk to the nearby record store Levy-Eskot and buy their whole catalogue. Come and enjoy.
» www.shutupandplaythehits.com
See also:
» CHRZU: Nightsatan and the Loops of Doom
» Maurice Steenbergen: Oldschool Renegades
» Jeff Broadway: Our Vinyl Weighs a Ton
» CHRZU: Nightsatan and the Loops of Doom
» Maurice Steenbergen: Oldschool Renegades
» Jeff Broadway: Our Vinyl Weighs a Ton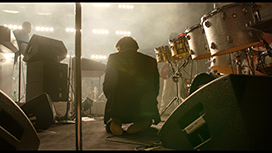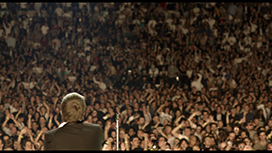 Screening time:
Kerubi • Sat 15th Nov at 6:00pm