Jimi: All Is by My Side
John Ridley:
Jimi: All Is by My Side (UK/Ireland, 2013)
117 min. • English
Age limit 16

Jimi: All Is by My Side is a British-Irish drama about the rock legend Jimi Hendrix. It has been directed by John Ridley who won an Oscar for the screenplay of 12 Years a Slave. The music press has written pages and pages about the new film especially due to the casting choices. Jimi Hendrix is brilliantly portrayed by André Benjamin aka André 3000, who is the bohemian front man of OutKast.

The story of All Is by My Side starts before Hendrix became the world's most famous guitar player and the god of all hippies. The young guitarist plays with Curtis Knight and the Squires and mulls over his career until women take charge. Keith Richards's girlfriend, Linda Keith (played by Imogen Poots), is bowled over by Jimi's talent and leads him to the spotlight. Linda also introduces Jimi to the wondrous world of acid trips. Soon, the whole of London is all a buzz about the man and his incredible guitar wrangling skills.

In his film, Ridley does not handle the story of Jimi Hendrix with kid gloves. He portrays Hendrix as a lost youth who is at the same time a nasty, calculating player and a ladies man, high on his growing success. Jimi: All Is by My Side manages to avoid the biopic clichés with their typical hero worshipping. Instead, the film portrays Hendrix as a contradictory person with his noble and not so noble characteristics. All in all, the film is hugely entertaining and adds to the Hendrix myth. It is clear that Ridley has kept the old rule in his mind: when you have to choose between the truth and a good story, it's always better to choose the latter one.
See also:
» Alex Cox: Sid & Nancy
» Greg Camalier: Muscle Shoals
» Greg Olliver: Johnny Winter - Down & Dirty
» Alex Cox: Sid & Nancy
» Greg Camalier: Muscle Shoals
» Greg Olliver: Johnny Winter - Down & Dirty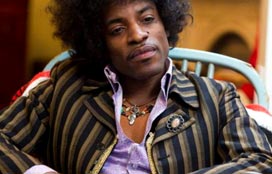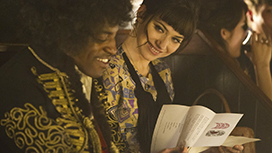 Screening time:
Tapio 2 • Sat 15th Nov at 3:00pm