Instrument of Himmler (Himmlerin kanteleensoittaja)
Heikki Huttu-Hiltunen:
Instrument of Himmler (Himmlerin kanteleensoittaja) (Finland, 2014)
56 min. • Finnish

Nazis and kanteles! Heikki Huttu-Hiltunen's documentary film Instrument of Himmler is a fascinating story of how a Finnish student ended up as a part of Heinrich Himmler's propaganda machinery that created mythology for the Aryan master race.

This intriguing film tells the story of a Finnish student, Yrjö von Grönhagen, who decides to leave the university of Sorbonne to walk from Paris to Helsinki in the spring of 1935. During his journey his path crosses with Heinrich Himmler, who is interested in the Finnish kantele, a traditional string instrument. With Himmler's assistance, Grönhagen finds himself as an official in the Third Reich, and he is given a task to combine the poetry tradition of Kalevala to the pseudo-scientific studies on the origins of Aryaness.

Grönhagen's experiences among the Nazis are pretty much unbelievable in their absurdity. In addition to the Third Reich experiences, this film introduces Grönhagen's collections of folklore from his journeys to Karelia, and of course, the kantele itself.
See also:
» Alex Steyermark: The 78 Project Movie
» Selma Vilhunen: Song (Laulu)
» Mika Ronkainen: Laulu koti-ikävästä (Finnish Blood Swedish Heart)
» Alex Steyermark: The 78 Project Movie
» Selma Vilhunen: Song (Laulu)
» Mika Ronkainen: Laulu koti-ikävästä (Finnish Blood Swedish Heart)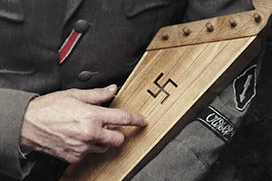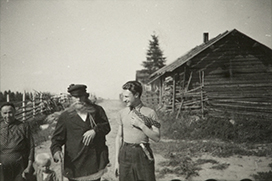 Screening time:
Tapio 4 • Fri 14th Nov at 4:45pm