Inside Llewyn Davis
Joel & Ethan Coen:
Inside Llewyn Davis (USA, 2013)
104 min. • English • Finnish subtitles

The music-themed comedy-drama Inside Llewyn Davis by the Coen brothers was awarded the Cannes Grand Prix last year, and it was also nominated as an Academy Award and Golden Globe candidate. The film is about Llewyn Davis, a folk singer chasing after success in New York in 1961. The story is fictional, but it is loosely based on the biography of the folk musician Dave von Ronk.

The film presents a week in the life of Llewyn Davis. The week involves missing cats, abortions, heroin overdoses, and endless laconic lines. This entertaining film is filled with the trademark humour of the Coen brothers, as well as brilliant characters, such as the jazz musician Roland Turner played by John Goodman. However, the best part of the film is its soundtrack, produced by T Bone Burnett. The music scenes of the film consist mainly of full songs recorded live.

Even amidst all the black humour, the critically acclaimed Inside Llewyn Davis is an extraordinarily heartfelt film that warms you up in the middle of the gloomy November.
See also:
» Alex Steyermark: The 78 Project Movie
» Greg Olliver: Johnny Winter - Down & Dirty
» Lenny Abrahamson: Frank
» Alex Steyermark: The 78 Project Movie
» Greg Olliver: Johnny Winter - Down & Dirty
» Lenny Abrahamson: Frank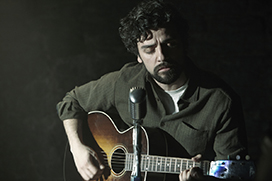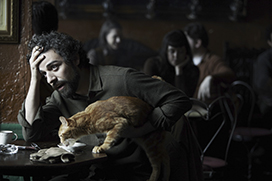 Screening time:
Tapio 4 • Sun 16th Nov at 3:00pm