Return to Homs
Talal Derki:
Return to Homs (Syria, Germany, 2013)
94 min. • Arabic • English subtitles
Age limit 16

Return to Homs is one of the finest documentaries of last year. It looks at the Syrian uprising from the viewpoint of two young men: Basset, a goalkeeper for the Syrian national football team and his journalist friend Ossama. They live in Homs, a place the army has turned into a ghost town with frequent bombings. The two young men believe in revolution and see hope in places where it may have already disappeared.

Return to Homs is director Talal Derki'€ôs cry for freedom. He wants to give names and faces to people who we see on the news daily. To people, whose desperation and will to survive makes them take up arms. To people who only want to have what we have too.

This is an important film that must be seen. The war in Syria keeps getting more inhumane, and the ones that suffer the most are people like Basset and Ossama. The events are shocking, but you are not allowed to look away. If they can believe in a better future, we must too.

Return to Homs won the Grand Jury Prize of the World Cinema Documentary Competition at Sundance Film Festival in 2014.
See also:
» The Riahi Brothers: Everyday Rebellion
» Alex Gibney: Finding Fela
» Sergei Loznitsa: Maidan
» The Riahi Brothers: Everyday Rebellion
» Alex Gibney: Finding Fela
» Sergei Loznitsa: Maidan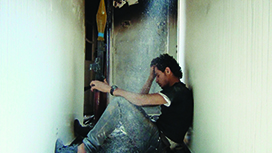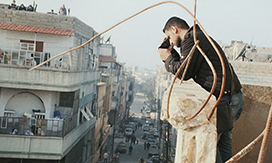 Screening time:
Tapio 3 • Thu 13th Nov at 4:30pm