Beware of Mr. Baker
Jay Bulger:
Beware of Mr. Baker (UK, 2012)
100 min. • English
Age limit 12

Ginger Baker, who visited Finland last summer, is considered not only a great drummers, but also one of the biggest asshole in the music business. Baker made his name as the heavy-handed drummer of the British band Cream. He is known, for example, for being one of the first people to use doublebass drums, but also for his fierce temperament and almost manic persona. Beware of Mr. Baker, which received the first prize on the SXSW festival, does not sugarcoat but shows the world exactly what kind of a man Ginger Baker is.

Baker's colleagues have described him as the best drummer in the world and as a force of nature. He has always been open about his misanthropy which has at times surfaced as straight-on violence. According to those who know him, he has been equally horrible to everyone, including himself. His most memorable moments include pissing off Eric Clapton, acting in Hollywood B-movies, appearing stark naked in front of a court, and abandoning the mother of his children for his daughter's teen friend.

73-year-old Baker has withdrawn to his South-African ranch alongside dogs, horses, and the most recent of his wives. However, age has not calmed the man down: director Bulger experienced this first hand when the star whacked him with his cane during the shooting of the film. The documentary, which includes interviews with Baker himself, his close ones, and family, as well as archival footage, is baffling and frank. As Mr. Baker proclaims, anyone who has a problem with him should find him and take a punch. He won't sue, he'll punch back.
See also:
» Salvo Cuccia: Summer '82: When Zappa Came to Sicily
» Greg Camalier: Muscle Shoals
» John Ridley: Jimi: All Is by My Side
» Salvo Cuccia: Summer '82: When Zappa Came to Sicily
» Greg Camalier: Muscle Shoals
» John Ridley: Jimi: All Is by My Side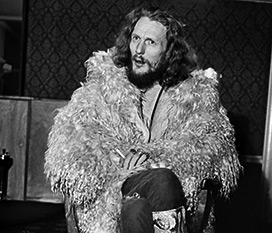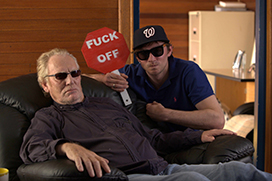 Screening time:
Tapio 3 • Sun 16th Nov at 3:15pm