News
22.10.2014
Program unveiled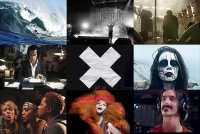 The program for this year's Rokumentti is ready and revealed. During the ten days there will be altogether over 50 full-length films covering music, art, surfing and almost everything.

The opening film is a 20,000 Days on Earth by Iain Forsyth, Jane Pollard and the closing film is a music drama Frank by Lenny Abrahamson.

Check the full program from here.

The advance sale for Rokumentti tickets will start on Monday October 27th at Tapio Movie Centre. Check the Info site for more details.