Info
Tickets
Festival ticket book (includes 5 tickets) 25 €
Entrance ticket 6 €
Festival ticket package
You can buy festival ticket package in advance starting on Monday 25th of October. With the festival ticket package you are entitled to participate on five screenings in Tapio excluding possible special screenings.
Festival ticket package has to be changed to normal entrance tickets. Tickets can be changed to entrance tickets in Tapio starting on 25th of October.
Remember to change your ticket on time, because limited seats are available.
Single Ticket
The sale of single tickets for the screenings held in Tapio begings on October 25th at the Tapio.
Festival tickets for screenings can be reserved by telephone during Tapio's opening hours. For reservations, please call +358 13 122 238.
There are no age limits to film screenings, unless otherwise mentioned.
Festival Locations
The screenings will take place at Tapio Movie Centre.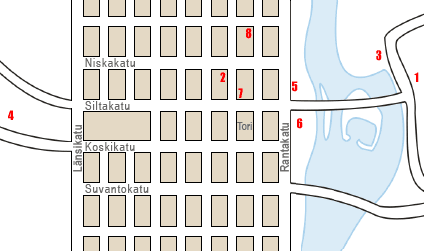 Railway station / bus station
Tapio Movie Centre (Kauppakatu 27)
Sokos Hotel Kimmel / Riverside (Itäranta 1)
Carelia Hall
Pub Palaveri (Siltakatu 4)
Teatteriklubi / Joensuu City Theatre (Rantakatu 20)
Gloria Restaurant (Siltakatu 12)
Cosmic Bowling Hall (Torikatu 31)
Infodesk
The information desk, which acts also as a lost-and-found, can be found during the festival at the Tapio Movie Centre. We will also answer your questions at moc.ittnemukor@ofni.
How to Get to Joensuu
By train:
» Timetables for Helsinki-Joensuu train services (PDF-file)
» Timetables for Joensuu-Helsinki train services (PDF-file)
» Timetables for Turku-Joensuu train services (PDF-file)
» Timetables for Joensuu-Turku train services (PDF-file)
By plane:
» www.finnair.fi
» www.finncomm.fi
Accommodation
The contact information for all hotels in Joensuu can be found at visitkarelia.fi.