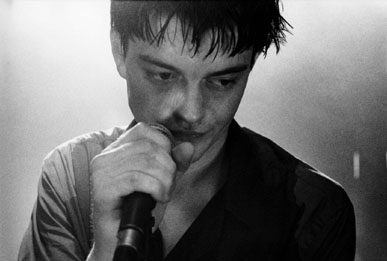 Control
Anton Corbijn:
Control (UK / USA, 2007)
121 min - 35mm - English. Finnish subtitles.
Production: Becker Films International
Distributor: Futurefilm
K-13
Control centers on Ian Curtis, the enigmatic lead singer of influential British band Joy Division. The award-winning drama marks the feature film directorial debut of acclaimed photographer and visual artist Anton Corbijn and stars Sam Riley (Ian Curtis). Control is based on Deborah Curtis book "Touching from the Distance", it's a story of the late Joy Division singer Ian Curtis' life, from the bands rise fame to his tragic suicide.
The film details the life of the troubled young musician, who forged a new kind of music out of the punk rock scene of 1970s Britain, and the band Joy Division, which he headed from 1977 to 1980. It also deals with his rocky marriage and extramarital affair, as well as his increasingly frequent seizures, which were thought to contribute to the circumstances that led to his suicide on the eve of Joy Division's first U.S. tour.

www.control-movie.com
---
Anton Corbijn
Anton Corbijn is a photographer from Strijen, the Netherlands. He is also well known for directing music videos. He has directed for example world famous Depeche Mode's video Personal Jesus and the award-winning video of Nirvana, Heart-Shaped Box. He is widely acknowledged by the music industry, mainly for being the creative director of the visual output of prominent bands like U2 and Depeche Mode, having handled the principal promotion and sleeve photography for both for more than a decade. Corbijn's first feature film is Control.

Back to Programme