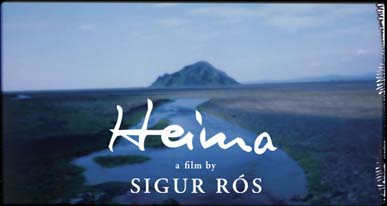 Sigur Rós: Heima
Participate in Rokumentti 2008 and submit your own film, fiction or documentary to us. E-mail a brief description and technical details of your film to media

rokumentti.com.

Rokumentti websites from previous years can be found here:
Rokumentti 2006
Rokumentti 2005


News
5th Feb 2008 – Up and coming...
The 4rd Rokumentti Rock Film Festival will be held from 14th to 16th November 2008! The new website will be out in May.
---
9th Nov 2007 – It's just getting bigger and bigger...
Although this year's Rokumentti displays almost twice as many shows than last year, we still aim to make the festival even better for our audience. On Thursday November 15th we offer a full free screening of the movie Heima by Sigur Rós as a surprise gift to you. The astonishingly beautiful and almost spiritual film is a perfect start to this year's Rokumentti, which is all about celebrating humanity. There is no entrance fee and the seats are limited, so come early.
---
24th Oct 2007 – Final Rokumentti programme is ready
The programme is now ready! During three great days you can enjoy 40 rock-oriented movies. We have punk, rhythms, country, new, old, you name it.
Rokumentti - Rock Film Festival will be held in Joensuu from 16th to 18th November 2007.
The head arena of Rokumentti is Movie Center Tapio, but everything great is going to happen around Joensuu during festival weekend!
---
24th Sep 2007 – Programme updates
We are proud to announce additions to Rokumentti programme, which can be viewed here. Stay tuned for more updates.
---
28th Aug 2007 – Welcome to the third and more smashing Rokumentti!
Rokumentti — Rock Film Festival will take place in Joensuu from 16th to 18th November 2007.
Also this year the festival provides all sorts of exciting combinations of pop culture and moving picture as well as a fine selection of fascinating classics of rock'n'roll movie classics. Don't forget that the festival organisation is constantly on the lookout for films and documents with a connection to rock music, pop culture and/or music makers in Finland and abroad.