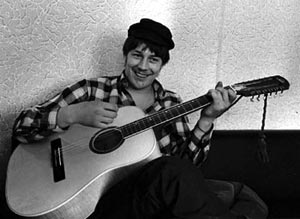 Yrjö Tähtelä:
Topralli (Finland, 1966)
Production: Tähtelä-Filmi Oy
77 min - 35mm. Finnish.
A frustrated record shop owner called Rudolf Räpylä is very surprised indeed, when director Pamppu accidentally gives him the task to organise "the most gigantic entertainment show ever seen in Finland or in Europe" in order to celebrate the 50th anniversary of Pamppu's company. Rudolf, now with the title of a PR manager, the secretary Katri, Pamppu's daughter Carola and entertainer Irwin cause a grand mess pursuing The Renegades, the band designed to be the main act of the show, all over the streets, nooks and crannies of Stockholm.
Yes, it does sound a bit confused. Topralli, once described as the only anarchic comedy ever made in Finland, is the long-lost classic of Finnish cinema. The critics hated it, of course, blaming it for trying to revive the genre of cheaply-made hit parade films popular in the 1940s and calling it "possibly the worst film ever made in Finland". But as the decades have passed, Topralli has started to look more and more intriguing. The film, made almost without any script at all, is hilarious to watch. Nostalgia makes this "badly photographed, awful-sounding, incredibly boring" film a rather charming account of its era, giving the audience the opportunity to laugh both at it and with it. Songs performed by the top artists of the time, Carola, Katri-Helena and Irwin Goodman, are valuable pieces of Finnish musical history. Note that Irwin, the most popular Finnish protest singer ever who appears in this film is also the subject of another Rokumentti piece, Harri Mielonen's Pyhiinvaellus.