Andrew Bird: Fever Year
Xan Aranda:
Andrew Bird: Fever Year (USA, 2011)
81 min. - English

If you happen to like The Shins, Arcade Fire and Rufus Wainwright you must give Andrew Bird a go. And the best way to do that is to watch this film! Andrew Bird: Fever Year portraits a talented musician from Chicago at the end of his hectic one-year tour. This tour is no ordinary tour but a culmination of his ten-year career. The fact that Bird has chronic fever doesn't make the job any easier. What is more, he has to work constantly with other artists, record new songs and hang out at the vegetable garden of his family farm.

Fever Year is a film about creating and the routine of the life on tour. This beautiful clip has a lot of live music, concert footage and it will introduce you to a talented indie musician who for some reason isn't well-known in Finland – at least not yet. Despite his fever, Andrew Bird doesn't rest. On the contrary, he fights to keep his creativity alive in any way he can. Bird chases the "ghost of inspiration" by not being afraid of failing. Whether he is performing solo or together with his talented band he tries to develop his expression with undying passion. The high-quality concert footage is a crucial part of the story and helps to make the movie into an elegant and beautiful combination of a documentary and a concert film.

Xan Aranda's award-winning film, which has been screened at numerous festivals, raises the bar high for music films. This colorful and beautifully shot film reaches out to the songs and the man behind them in a personal way. While doing it, the film describes a chaotic world where a man on tour creates his pieces of art.
» andrewbirdfeveryear.wordpress.com
See also:
» Kevin Triplett: Blaze Foley: Duct Tape Messiah
» Eve Wood: Pulp: The Beat Is The Law – Fanfare For The Common People
» Malik Bendjelloul: Searching for Sugar Man
» Kevin Triplett: Blaze Foley: Duct Tape Messiah
» Eve Wood: Pulp: The Beat Is The Law – Fanfare For The Common People
» Malik Bendjelloul: Searching for Sugar Man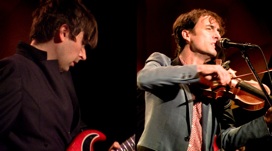 Wed 14th Nov at 5:00pm Tapio 4