Tolonen
Lasse Keso:
Tolonen (Finland, 2014)
73 min. • Finnish
Age limit 7

Lasse Keso'€ôs documentary tells the story of Finland's greatest guitar hero from the rise to the fall and finally the resurrection. In the 1970s, Jukka Tolonen, known, for example, from the progressive rock band Tasavallan presidentti, was at the top of his game. He was praised by the international music press and superstars such as Cat Stevens and ABBA wanted his services. However, Tolonen decided to concentrate on his solo career which did start out strong in the Scandinavia and Europe.

Unfortunately, not everything went as planned. By the end of the 1990s, Tolonen'€ôs drug-ravaged form haunted the streets of Stockholm and in 2008, he was incarcerated for an aggravated assault on his girlfriend under the influence of drugs and alcohol. Tolonen'€ôs life had been in shambles for years, his marriages had fallen to pieces, and his health was failing. Doctors were surprised he was even alive.

The documentary follows Tolonen from 2006, the time just before the assault. From the drug-fueled guitar sessions, the trial, the prison sentence, and his release, the film jumps to 2012, to a studio where Timo Kämäräinen, Risto Toppola, and Teemu Viinikainen are recording a tribute album to Tolonen.

The documentary is a humane and moving story about giving up, survival, and a new beginning. Also, it shows how Tolonen'€ôs music lives on in the hands of the younger generations of musicians.
See also:
» Salvo Cuccia: Summer '82: When Zappa Came to Sicily
» Greg Olliver: Johnny Winter - Down & Dirty
» John Ridley: Jimi: All Is by My Side
» Salvo Cuccia: Summer '82: When Zappa Came to Sicily
» Greg Olliver: Johnny Winter - Down & Dirty
» John Ridley: Jimi: All Is by My Side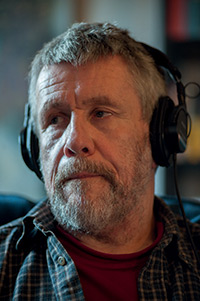 Screening time:
Tapio 4 • Wed 12th Nov at 7:00pm