Maidan
Sergei Loznitsa:
Maidan (Netherlands, Ukraine, 2014)
131 min. • Ukraine • English subtitles

Maidan is a film about the Ukranian uprising. It was the talk of the 2014 Cannes film festival, where the freshly completed documentary was screened as the conflict went on in Kiev. After the release of the film, the events at the Crimea and Eastern Ukraine have made sure that this documentary remains highly current.

Maidan is an Ukranian word for an open space, town square or a plaza. The maidan that the title refers to is Maidan NezaleŇĺhnosti, situated in the centre of Kiev. It is a place where the Ukranians gathered up to protest the corrupted president Yanukovych. Director Sergei Loznitsa'€ôs cameras were at the scene, recording and witnessing the demonstration that was supposed to be peaceful and democratic but turned out to be something dramatically different.

Maidan pushes the boundaries of storytelling that we'€ôre used to seeing in a traditional documentary. Loznitza wants to take the viewer right in the middle of a revolution and show how a warm and collective carnival changes into a blood bath in a course of only months. His camera is static, and at times it feels as if nothing happens in the film. Then, an instant later, too much is going on. The film does not explain the causes of the uprising, but it focuses on the people: the courage, the sacrifices, the sense of community and the solidarity.

This film is an impressive piece of art that shows a moment when a piece of history was written.
See also:
» Kai Sehr: Skateistan
» Talal Derki: Return to Homs
» Omar Shargawi, Karim El Hakim: 1/2 Revolution
» Kai Sehr: Skateistan
» Talal Derki: Return to Homs
» Omar Shargawi, Karim El Hakim: 1/2 Revolution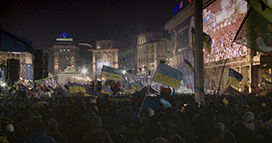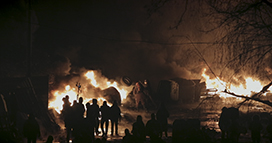 Screening time:
Tapio 3 • Fri 14th Nov at 4:00pm