Sid & Nancy
Alex Cox:
Sid & Nancy (UK, 1986)
114 min. • English • Finnish subtitles
K-18

The drama Sid & Nancy, directed by Alex Cox, is based on the tragic love story of the Sex Pistols' bass player Sid Vicious and his girlfriend Nancy Spungen. Nancy was found stabbed to death in a bathroom in Hotel Chelsea in August 1978. The boyfriend Sid was found in a state of shock, shaking in the bedroom covered in blood. He was charged with murder, but before the final court ruling, he died of a heroin overdose.

The film begins with Nancy's murder, and it focuses on the viewpoint of Sid Vicious, played by Gary Oldman. The story goes back to the beginning of the tragic, drug-filled relationship of Sid and Nancy, to the golden era of punk rock in London. Sid & Nancy is not an uplifting family film, but it is entertaining and can be recommended to anyone into punk, Sex Pistols, and music in general.

The screening is a collaboration with KAVI (National Audiovisual Institute).
See also:
» Quentin Dupieux aka Mr. Oizo: Wrong Cops
» Sini Anderson: The Punk Singer
» Jim Jarmusch: Only Lovers Left Alive
» Quentin Dupieux aka Mr. Oizo: Wrong Cops
» Sini Anderson: The Punk Singer
» Jim Jarmusch: Only Lovers Left Alive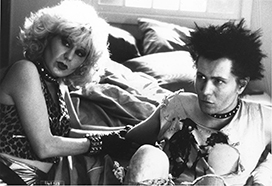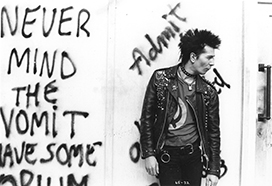 Screening time:
Tapio 2 • Mon 10th Nov at 4:30pm