The Death and Resurrection Show
Shaun Pettigrew:
The Death and Resurrection Show (UK, 2013)
150 min. - English
K-16

The Death and Resurrection Show tells the incredible story of post-punk, gothic and industrial rock legend Killing Joke. The band, formed in 1978, is known for occultism, provocations, and visions about the apocalypse, but also for hypnotic rhythms, unholy guitar sounds of Geordie Walker and the manic expressiveness of the band's mystic vocalist Jaz Coleman. "You have to remember that Killing Joke started as a ritual."

Killing Joke has always been an experimental group. The experiments haven't only been restricted to music, as mysticism and occultism have always been a central part of the band. Especially the prophetic lead, Jaz Coleman, has claimed fame through his eccentric actions, such as taking off to Iceland to escape the end of the world just as the band was starting to make a name for themselves. Gigs spiked with psychological manipulation and recording an album at a tomb in the pyramids of Egypt are also within the range of normal for this band.

Killing Joke has had a massive influence on today's music. Bands from Metallica to Foo Fighters and Faith No More name Killing Joke as their influence. Nirvana is known for "borrowing" the central riff of Come As You Are from this band. Amongst Finnish musicians the crown of the most ardent fanboy goes to Jouni Hynynen, whose group, Kotiteollisuus, was invited to cover Killing Joke in the Absolute respect -tribute album.

The Death and Resurrection Show, the brand new documentary that has its Finnish premiere at Rokumentti is bound to astonish even the most loyal Joke fan. The extent of the archive material and the interviews from different decades take you into the dark center of Killing Joke. This gigantic two-and-a-half-hour movie holds the viewers' interest for its entire length and draws them to the twisted world of Joke. No self-respecting music fan should miss this. Be a part of the Death and Resurrection Show!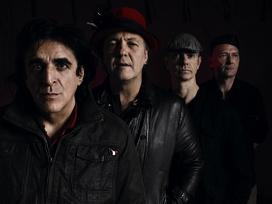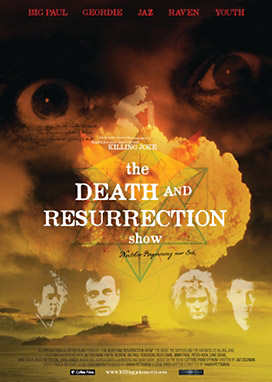 Fri 15th Nov at 7:45pm Tapio 3