Midsummer Night's Tango
Viviane Blumenschein:
Midsummer Night's Tango (Germany, Finland, Argentina, 2013)
82 min. - Finnish, Spanish - No english subtitles
-S-

Tango originates from Buenos Aires. However, according to Aki Kaurism√§ki, tango '€" the fieriest of all dances '€" was brought there by Finnish sailors. To Argentinians this claim sounds ridiculous, but three brave musicians decide to travel to the faraway country of Finland to find out whether there is any truth to the legend.

The encounter of two tango cultures is depicted through the eyes of an outsider by Viviane Blumenschein. The singer Chino Laborde, the guitarist Diego '€úDipi'€Ě Kvitko and the bandoneon player Pablo Greco travel around Finland, meeting not only Finnish dancers who enjoy tango but also tango musicians. According to the Argentinians, the Finnish dance halls do not bring forth anyone who could master '€útrue'€Ě tango. But what finally makes an impact on both the Argentinian musicians and the viewer, is the meeting of Reijo Taipale and playing Satumaa-tango together by a lake.

This cheerful documentary plays with Finnish and Argentinian stereotypes without getting trapped by them. Music really is a universal language and in the end it doesn'€ôt even matter that much where tango originated from. The gentle Poski poskea vasten offers a breather among the otherwise dark themed festival listings.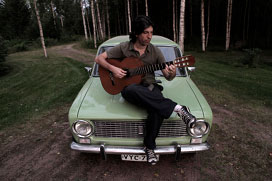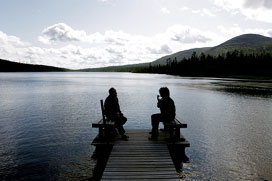 Sat 16th Nov at 1:00pm Tapio 4