Gasland
Josh Fox:
Gasland (USA, 2010)
104 min. - English
Age limit 3 years

Sin I: Pollution

A natural gas company offers amicable filmmaker Josh Fox 100 000 dollars for the permit to drill on his parents' heritage ranch. Easy money soon starts to stink when the wild rumours from Dimock tell about exploding wells, farm animals gone bald and flammable tap water. Rumours turn into facts, and the dirty truth behind the drilling sees daylight. A detective story across the mythical countryside of America begins.

Josh Fox's first documentary film Gasland was nominated for an Academy Award in 2011. The film has won several awards in documentary and environmental film festivals. Variety describes this film as "one of the most effective and expressive environmental films of recent years". Gasland has also been called a horror film and a true eye-opener. Despite all its seriousness and unsettling scenes, Gasland is entertaining and even lovable in all its roughness.

Gasland proves how sinful the energy industry can be, and how much we are willing to sacrifice for fast money and self-sufficiency in oil. The effects of the natural gas business in Fox's film are scarily identical with the ones Finland witnessed in the mine disaster of Talvivaara. Kainuu fishing regions are not so far away from all-American flammable tap water, after all.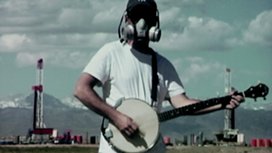 Sat 16th Nov at 4:45pm Tapio 3