The Hunt
Thomas Vinterberg:
The Hunt (Denmark, 2012)
115 min. - Danish, English, Polish - Finnish subtitles
Age limit 12 years

Extra sin: Paedophilia

The Hunt, directed by Thomas Vinterberg, differs from the rest of the Rokumentti theme programme. This is a drama film that looks into a difficult topic from a very different point of view. The thriller, featuring Mads Mikkelsen, tells a story about the hysteria created by suspected child abuse. Paedophilia is the most severe a sin imaginable, and the emotions linked to it can occasionally trigger excessive reactions.

The Hunt tells the story of a 40-year-old Lucas who works at a daycare and is falsely accused of abusing a little girl. The lie stains the small community and drives Lucas to fight for his life. Vinterberg's and screen writer Tobias Lindholm's story progresses subtly, while the tension and the sense of threat heighten gradually. Previously, this pair worked together on the praised film Submarino, and now once again they have created something magnificent. The leading role rightfully brought Mads Mikkelsen the award for Best Actor at the Cannes Film Festival.

This film encourages us to think about the current age of public raging. Social media especially offers a real time platform for the hunt. Accusations once uploaded online cannot necessarily ever be erased. The Hunt is a spectacular film recommended to all the friends of quality drama and thrillers.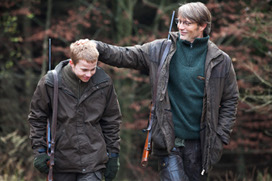 Sun 17th Nov at 5:00pm TApio 4