The White Stripes Under Great White Northern Lights
Emmett Malloy:
The White Stripes Under Great White Northern Lights (USA, 2009)
93 min. - English

Jack White is on fire. The hyperactive musician has formed three widely accomplished bands, founded a fresh and original record company, won a few Grammys, made the spectators of 2010 World Cup sing out his guitar riff for hours and hours and, on the side, created one of the most famous rock phenomena of the 2000s. And all this he did in more or less ten years. One might consider The White Stripes a mediasexy comic book band but no one who has seen It Might Get Loud (also screened in Rokumentti las year) can deny Jack White's sincere love for guitar rock.

The White Stripes Undet Great Northern Lights is a fabulous on-the-road documentary which presents this unique band's visual and passionate attitude towards touring. This film, shot just before the release of their latest album Icky Thumb, tells about The White Stripes' big Canadian tour, where, in addition to sold out concerts, they played free gigs in small and very odd places. It is this vast scale of gigs that makes this documentary a unique experience. A single club gig would not be enough to reveal this band's true essence. The dedication and intesity of the duo is wild – whether the gig is played in YMCA kid camp or a stage built on a truck platform. The tears in Jack and Meg White's eyes in the last scene of the film tell all about their dedication to their work.

The White Stripes Undet Great White Northern Lights was directed by Emmet Malloy, who is best known for his music videos. The film magnificently echoes the black 'n white 'n red look of The White Stripes. Like The White Stripes' music, Malloy's film in all its crackly recklessness is a tightly controlled masterpiece.
See also:
» Sacha Gervasi: Anvil! The Story of Anvil
» Doug Pray: Hype!
» Jim Jarmusch: Year of the Horse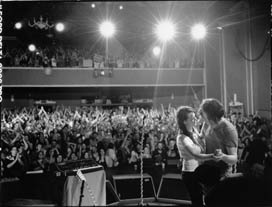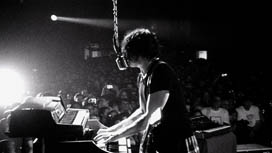 Fri 19th Nov at 2:45pm at Tapio 3
Sat 20th Nov at 8:00pm at Tapio 3