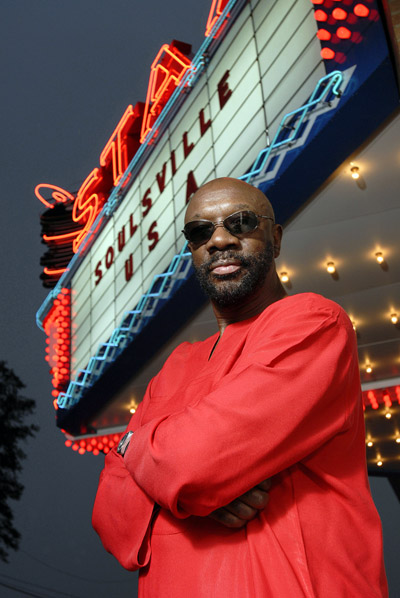 Respect Yourself: The Stax Records Story
Robert Gordon & Morgan Neville:
Respect Yourself: The Stax Records Story (USA 2007)
114 min. – DVD – English.
Production: Tremolo Productions
Funky. Emotional. Raw. Powerful. That was soul music in the Civil Rights era and Stax Records did it like no other label. Respect Yourself: The Stax Records Story traces the astonishing history of Stax, from a modest neighborhood hangout to a cultural and political empire.
The Southern city of Memphis was a hotbed of racial tension, but that stopped at the doors of Stax Records. The open-door policy led to the formation of renowned house band Booker T & the MGs, one of America's first interracial groups. Other artists like Otis Redding and Sam & Dave soon joined the roster, as well as songwriters Isaac Hayes and David Porter. With songs like "Sittin' On The Dock of the Bay," "Soul Man" and "Knock on Wood," Stax solidified its reputation as a hit-making machine. Through all of this, the label overcame hustlers, bad business decisions, tragic deaths and a number of financial meltdowns. But with each reincarnation, Stax grew, branching out into film production and Broadway, and affirming its solidarity with the civil rights movement, before its demise in 1975.
Respect Yourself provides first-hand accounts of what really happened on the streets and behind studio doors from the Stax musicians as well as label president Al Bell, Rev. Jesse Jackson and others. With rare performances, unreleased home movies and new recordings, filmmakers Gordon and Neville present the first comprehensive look at Stax Records, the greatest soul label of all time.
—
Robert Gordon
Robert Gordon is a movie maker, writer and currently lives in Memphis, Tennessee. His literature work includes Can't Be satisfied: The Life And Times Of Muddy Waters and It Came From Memphis, story about the rich culture and music heritage of Memphis area. Gordon has made many music videos and documentaries to movie theaters and television. He has also written an episode The Road To Memphis for the television series The Blues by Martin Scorsese.
Filmography:
Johnny Cash's America (2008)
Respect Yourself: The Stax Records Story (2007)
Shakespeare Was a Big George Jones Fan: 'Cowboy' Jack Clement's Home Movies (2005)
Muddy Waters Can't Be Satisfied (2003)
Morgan Neville
Morgan Neville has written, directed and produced movies and television programs from early nineties. He has been nominated for Grammy Award in Best Long Form Video. His document Shakespeare Was a Big George Jones Fan: 'Cowboy' Jack Clement's Home Movies had been awarded in Nashville Film Festivals.
Selected filmography:
Johnny Cash's America (2008)
Respect Yourself: The Stax Records Story (2007)
Shakespeare Was a Big George Jones Fan: 'Cowboy' Jack Clement's Home Movies (2005)
Muddy Waters Can't Be Satisfied (2003)
Sam Phillips: The Man Who Invented Rock'n'Roll (2000)
John Steinbeck: An American Author (1999)
Brian Wilson: A Beach Boy's Tale (1999)
The Hustons: Hollywood's Maverick Dynasty (1998)
Nat King Cole: Loved in Return (1998)
Sidney Poitier: The Defiant One (1997)