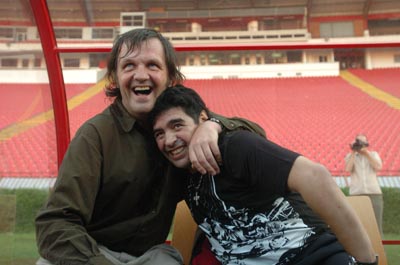 Maradona
Emir Kusturica:
Maradona (Spain / France, 2008)
90 min. – 35mm – English / Italy / Serbocroatia / Spain. Finnish subtitles.
Distributor: Cinema Mondo
Maradona is a documentary on the life of Argentine footballer Diego Maradona, directed by the award-winning Serbian filmmaker Emir Kusturica (Underground, Black Cat, White Cat). The documentary premiered at the Cannes Film Festival 2008.
Often considered as the best football player in the world, Diego Maradona is also known for his addiction to drugs. Wishing to show his true face, Emir Kusturica signs in this film an intimate portrait of the Pibe de Oro. Maradona is the first film that will treat all the aspects of the life of Maradona. The film will show the three Maradonas: The football teacher, the politically incorrect citizen against the unilateral politics of the USA and the family man.
One can ask why a rock film festival screens a movie about an athlete. Simple answer is – Maradona is more of a rock star than most of the musicians around. Cocaine, religious fans, international superstars, Maradona-weddings – you name it, this film has it!
Trailer (YouTube)
—
Emir Kusturica
Emir Kusturica (s. 1954) graduated from the famous Film Faculty of the Academy of Performing Arts (FAMU) in Prague. Kusturica is Serbian and beside the career in cinema his also a musician in group called No Smoking Band. His second movie When Father Was Away On Business won Cannes Palmd'Or and was nominated for Oscar in Best Foreign Film category. Kusturica received another palm d'Or from movie called Underground. At the beginning of nineties Kusturica lived in USA and directed movie called Arizona Dream which starred Johnny Depp. Today Kusturica lives in Serbia, near the Bosnian border in his own village called Kustendorf. By his own words: "I am finished with cities. I spent four years in New York, 10 in Paris, and I was in Belgrade for a while. To me now they are just airports. Cities are humiliating places to live, particularly in this part of the world."
Selected filmography:
Maradona (2008)
Super 8 Stories (2001)
Black Cat, White Cat (1998)
Underground (1995)
Arizona Dream (1993)
Time of the Gypsies (1988)
When Father Was Away on Business (1985)
Do You Remember Dolly Bell? (1981)
Guernica (1978)